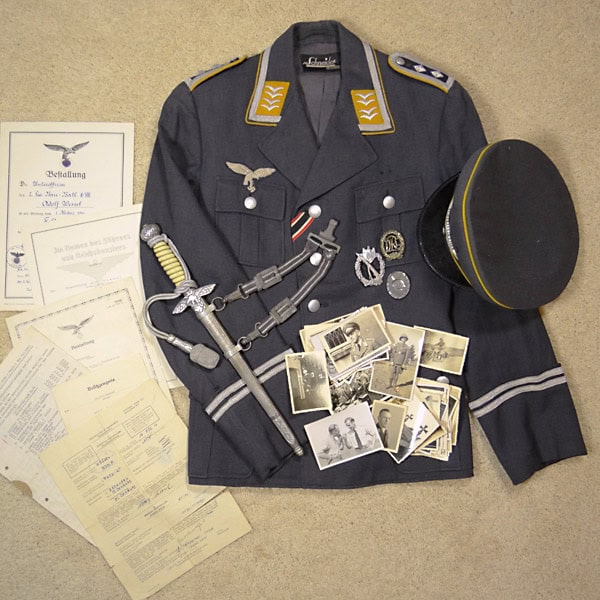 The WW2 German Uniform Tunic was perhaps one of the most well made, attractive, yet feared uniform in military history. Some have called the designers of German Uniforms from the WW2 era "theatrical geniuses" due to their precision stitching, ornate characteristics, and eye pleasing detail. Nazi Uniforms are highly collectible, yet very thoroughly critiqued by the astute collector due to the sheer number of reproductions that have flooded the WW2 collectibles market since just after the war. One has to also be conscious of alterations to authentic German uniforms, including replaced patches, insignia, shoulder boards, collar tabs, etc. With so many different German tunic styles produced during WW2, including those of the different military branches such as Luftwaffe Uniforms, German Army (Heer) Uniforms, Kriegsmarine (Navy) uniforms, SS uniforms, and many others, becoming familiar enough with all of the variations could take a collector a lifetime. Care and education should be taken when considering the purchase of a Third Reich German Uniform.
German Uniforms & Tunics

SOLD!

This is one of the finest German tunics we've ever come across! In unissued condition, this matching Coastal Artillery tunic (also referred to as a KA tuinc) and pants set came directly from a vet collection. The tunic is manufactured by A. Wolter & Sohne, a well-known manufacturer of uniforms, but a rare manufacturer of Kriegsmarine pieces. They're more well known for RAD and Heer uniforms. As you can clearly see in the photos, this Coastal Artillery set shows very few signs of use (considered unissued condition) and the only notable flaw is a missing button on the front of the tunic.