MY BACKGROUND
My interest in World War 2 history started with my older brother, Bill, who has been a WW2 history buff for as long as I can remember. Over the years I'd visit his home and he'd show me the latest pieces in his collection. Eventually I started collecting medals, a couple daggers, some belt buckles; things that were relatively attainable for a reasonable price. The more I bought, the more my passion grew. Then one day I met a local gentleman who had an opportunity for me that turned my passion into an obsession. His father was a life-long collector of WW2 German military items and taught him how to authenticate everything from medals to uniforms, and everything in between. Times were tough and he wanted to sell a few of the German tunics, bayonets, German medals, some German visor caps, and a few other misc. things that he inherited from his father who had passed several years prior. We came to terms on a price for many of the items and my collecting obsession began.
Over the years I've purchased everything from daggers, medals, uniform groupings, and helmets, to photo albums, flags, railroad eagles, and even firearms. Nothing gives you the experience necessary to be a successful buyer and seller of WW2 collectibles than actually collecting! I'm a member of several military collectors groups, and have established a network of fellow collectors who specialize in areas I may not be as well versed. One person cannot be an expert on everything, so having a support network is key!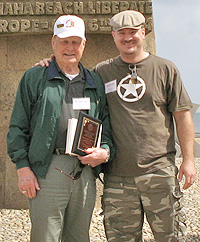 My passion for WW2 doesn't end with tangible items. In 2010, for Bill's 40th birthday, we (along with my younger brother Mark) decided to take a 2-week WW2 tour of Europe. We started in Paris, then toured the Normandy beaches (on D-Day), then on to Bastogne Belgium, Nuremberg, Munich, Hitler's Eagles Nest, and several places in between. We ended the trip with an experience of a lifetime; 3 days of medal detecting in the battlefields of the Ardennes Forest, where the Battle of the Bulge took place. It was an amazing and humbling experience to say the least.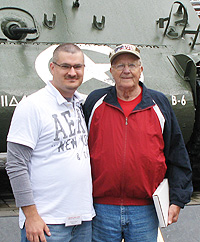 During our time in Europe, we were blessed to spend the entire trip with two WW2 veterans, Andy and Deo. That's Andy in the the photo above-right. We're standing in front of the memorial on Omaha beach, where Andy came in on D-day with the First Infantry Division (the Big Red One). Deo was with the 257th Field Artillery Battalion, and served with General Patton's 3rd Army during the Battle of the Bulge. That's Deo in the photo to the left. It was truly an honor to get to know these heros and hear their stories.
MY MISSION
My mission is to preserve as many pieces of WW2 history as I can in my lifetime, both in my private collection and through sales to fellow collectors. When it comes to collecting WW2 history, I believe there are two types of people; those who understand and respect the history behind each and every item regardless of its origin, and those who cannot get past the symbol (the Swastika) in order to see the true historic value of each item. To me (and other true collectors) each and every item, regardless of whether it belonged to the Axis or the Allies, is significant because it represents a time in history that should be preserved so it is available for future generations to appreciate. To our veterans these items represent memories, which is why they brought them home from the war. To us and future generations, these items represent a war that we can only understand through our imaginations. Without preserving these historic items, there will be nothing left for even the imagination.