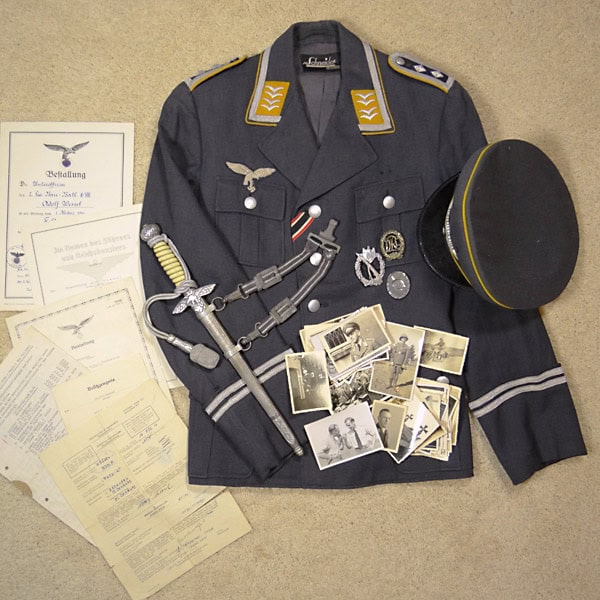 WWII German Third Reich military collectibles have become increasingly popular among WW2 history collectors over the past several years, surpassing the popularity of war relics from any other country involved in the war. Some attribute this rise in popularity to such Hollywood blockbuster movies as "Saving Private Ryan", and more recently the hit TV mini-series, "Band of Brothers". For the younger generation (and some of us older folks) modern video games have also contributed to the increasing interest in World War 2 German militaria collecting, with mega-popular games such as "Medal of Honor", and "Call of Duty". Whatever the reason for ones interest in World War II collectibles, its important that history be preserved so future generations can see, feel, and appreciate what the Greatest Generation fought to preserve – our freedom!
Showing 1–24 of 306 results
German Helmets

$

850.00

Here we have an interesting M42 Luftwaffe Single Decal helmet with the remnants of the winter camo still present around the eagle, the rim, and other areas of the exterior. This is not uncommon as the soldier "scrubbed" the camo on/off of the helmet depending on the terrain. Winter camo Luftwaffe helmets are very difficult to find in any condition, and while the white of the camo has been scrubbed from the surface, even having the remnants present makes this a rare find.