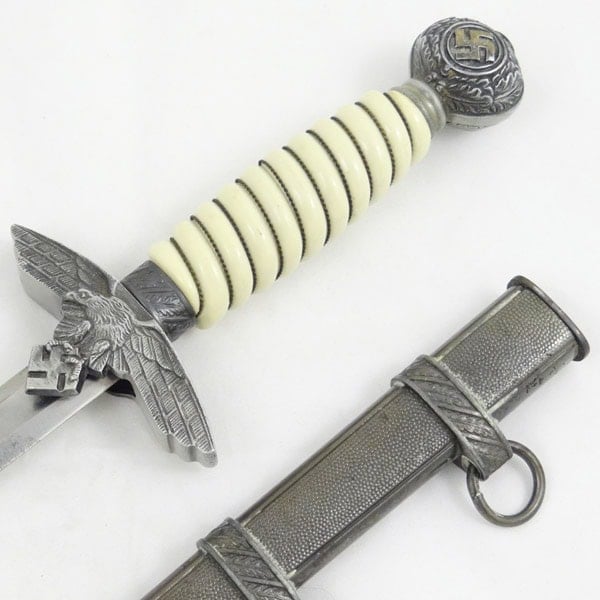 The German Luftwaffe Dagger was a standard accessory for officers and certain high-ranking NCOs of the elite Luftwaffe (German Air Force). The Luftwaffe knife shares many characteristics with its cousin the German Army dagger. Some of the most prominent features of the German Luftwaffe dagger include a decorative Nazi eagle carrying a swastika in its talons on the knife's cross guard, a ornately decorated pommel with a prominent swastika at the center, and knife grips that were offered in 3 colors (orange, yellow or white) and featured a carved groove accented with silver wire (brass and aluminum on some versions). Authorized members of the Luftwaffe could also choose a Luftwaffe knife with more stylish grips that were fashioned from amber glass or solid ivory. The Luftwaffe dagger's scabbard was constructed from steel and was available with silver or nickel finishes. Near the tip you'll find a section containing decorative oak leaves rising upward from the tip. The blade of the German Luftwaffe dagger also shared a common trait with the German army dagger in that it too was not engraved with a Nazi motto written in Gothic script such as you would find on a more elite SA dagger or SS dagger.
German Daggers & Knives

SOLD!

A very nice Veteran acquired World War II Luftwaffe Dagger by Alcoso. Pommel cap and cross guard are in very nice condition, with only very modest wear. The grip shows only very minor nicks, but no cracks or notable chips and is otherwise solid. The scabbard and ferrule show an honest amount of surface rust, and sadly the scabbard has a decent size dent between the hanger rings. As for the blade, it shows a good deal of discoloration that may simply be dried casmoline. It is completely uncleaned so there is no way to tell without making an attempt at cleaning the blade. The hangers set is in great shape, with average wear to the metal fittings, and no notable stitching or fabric issues.