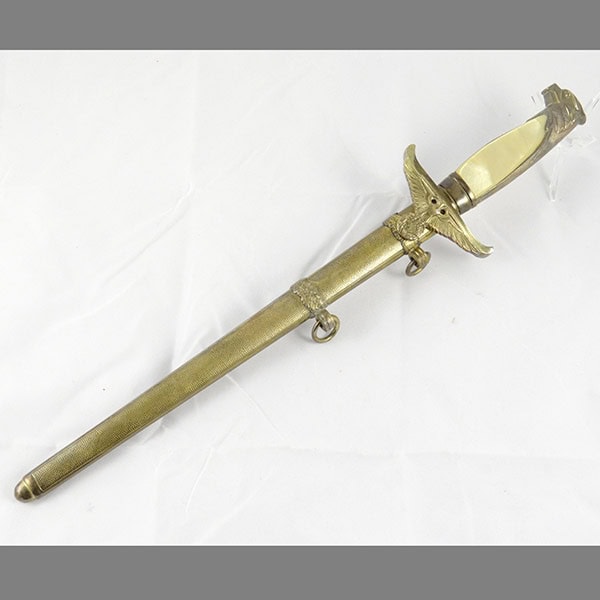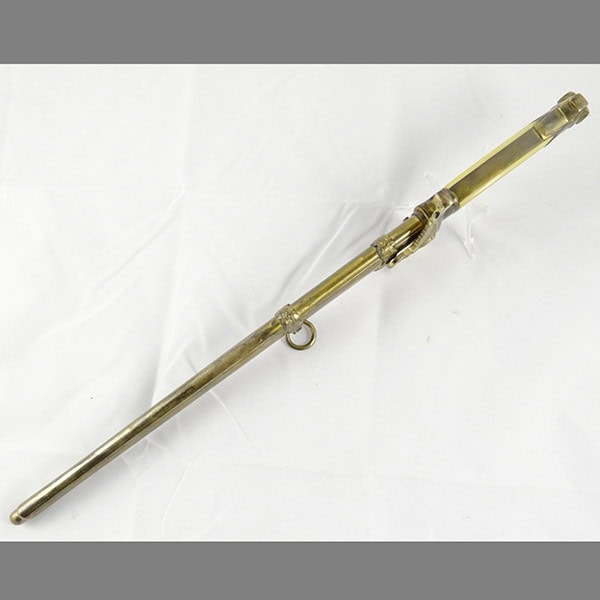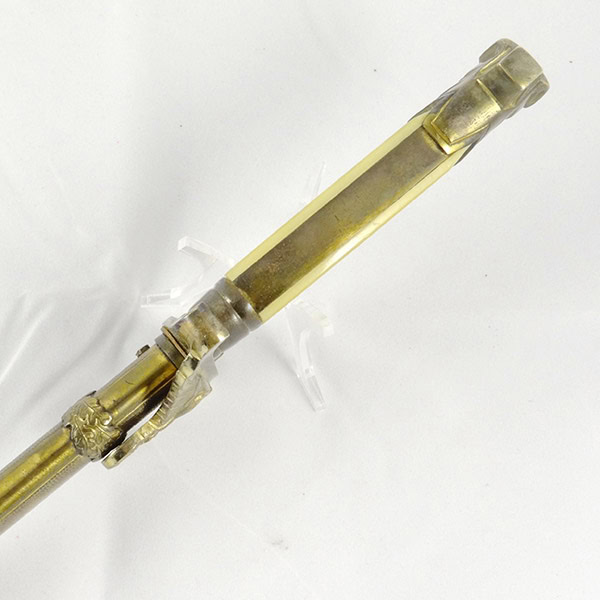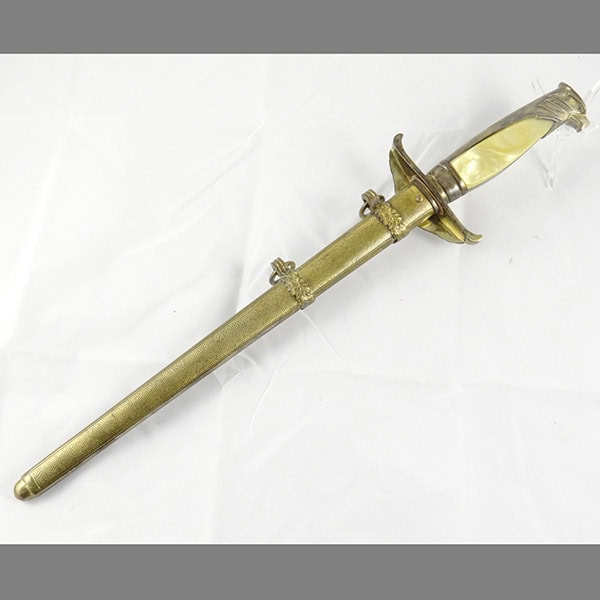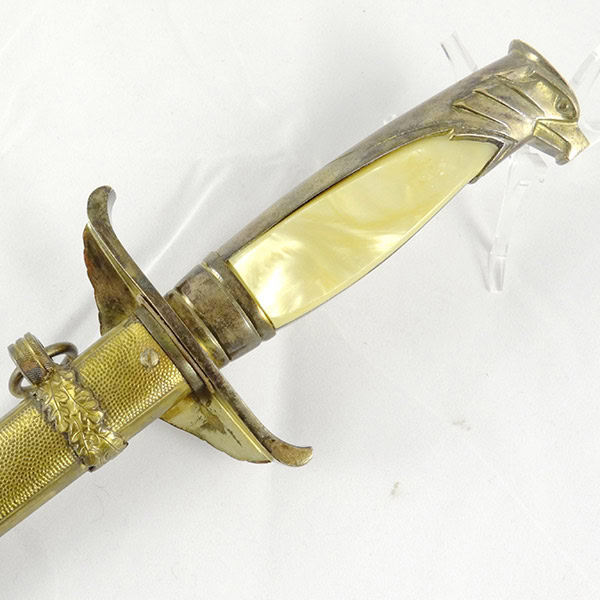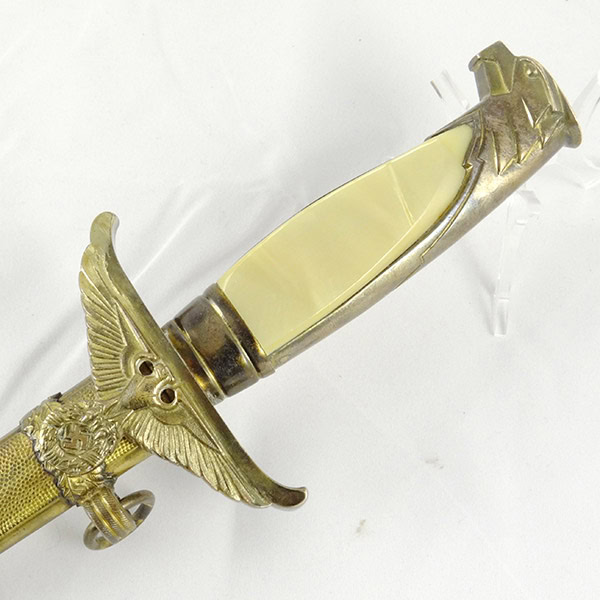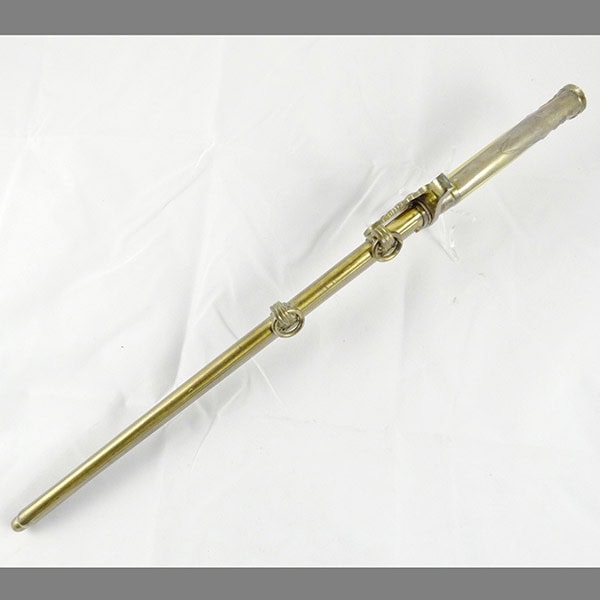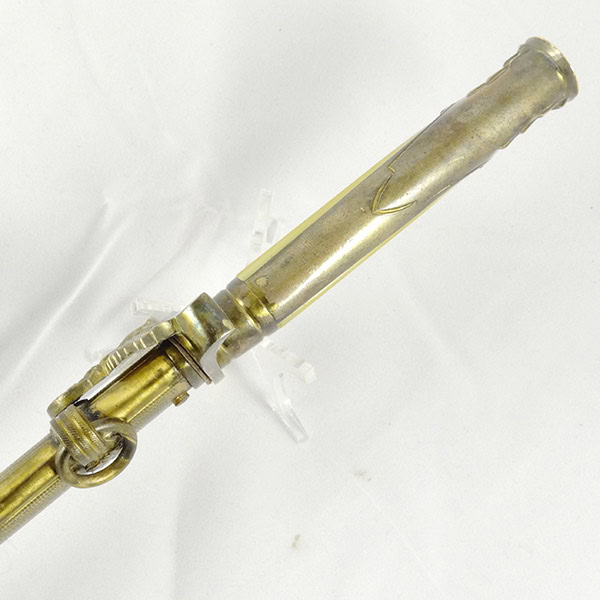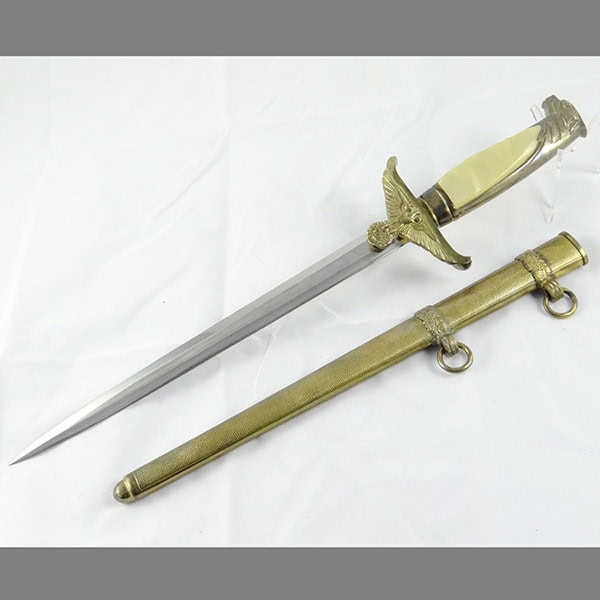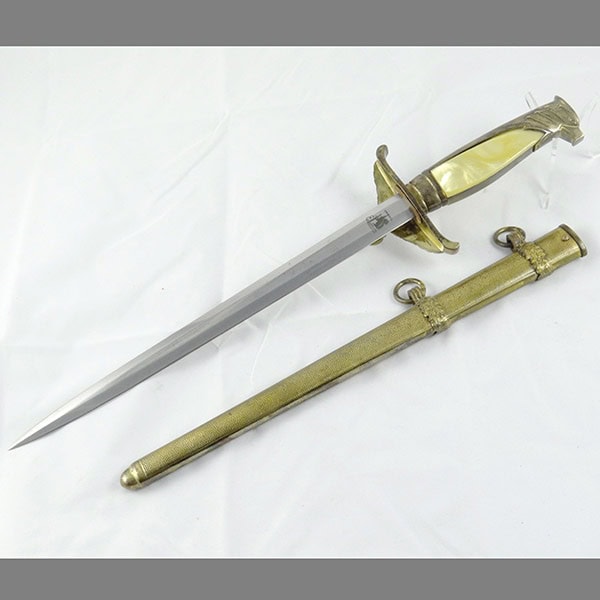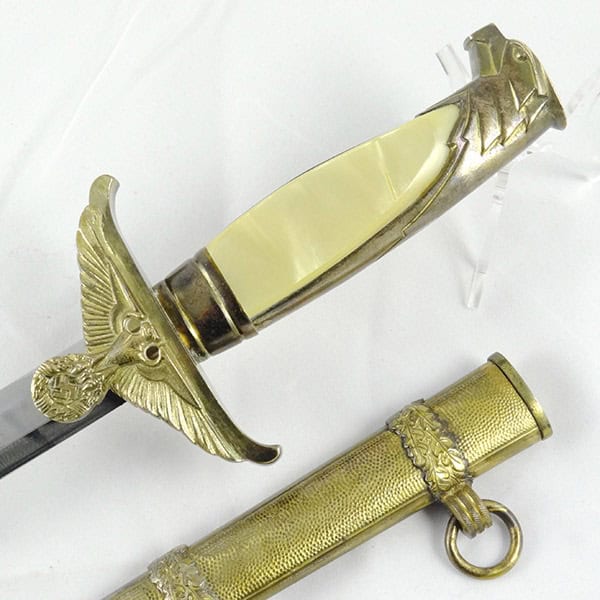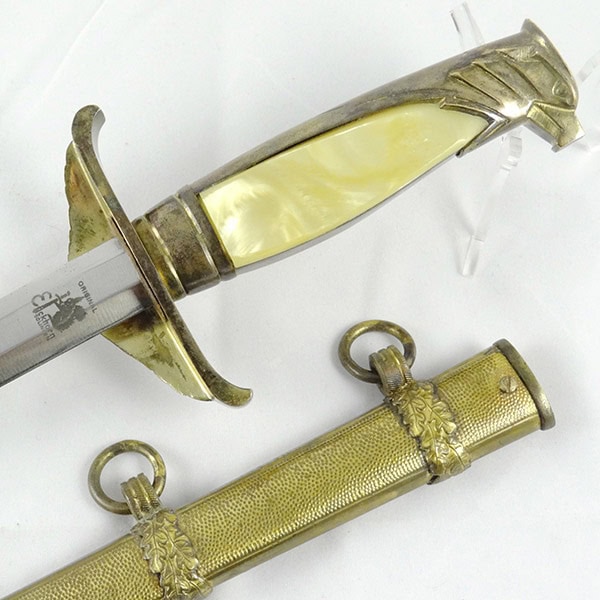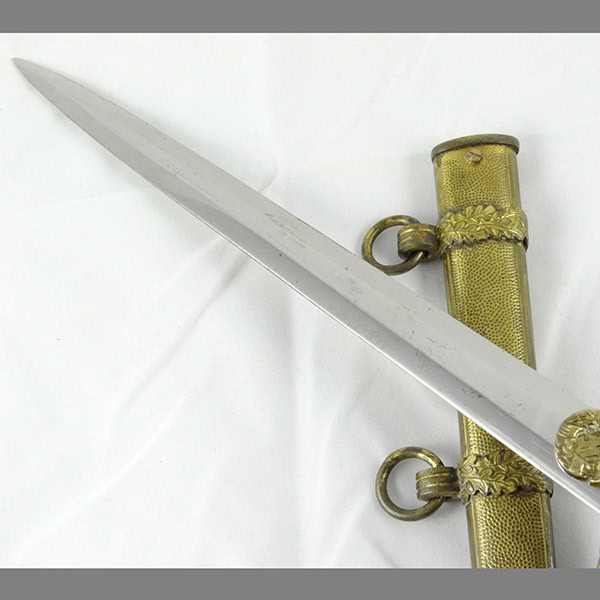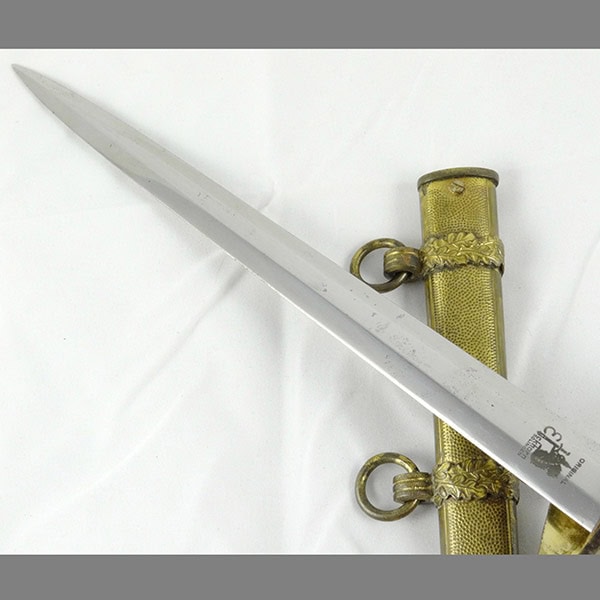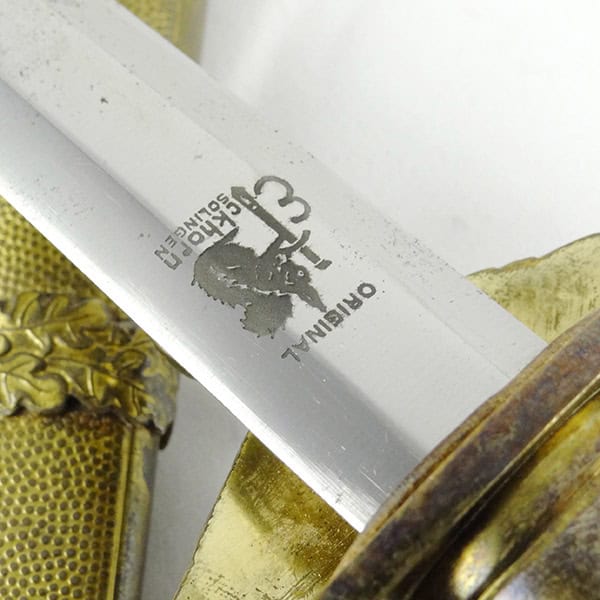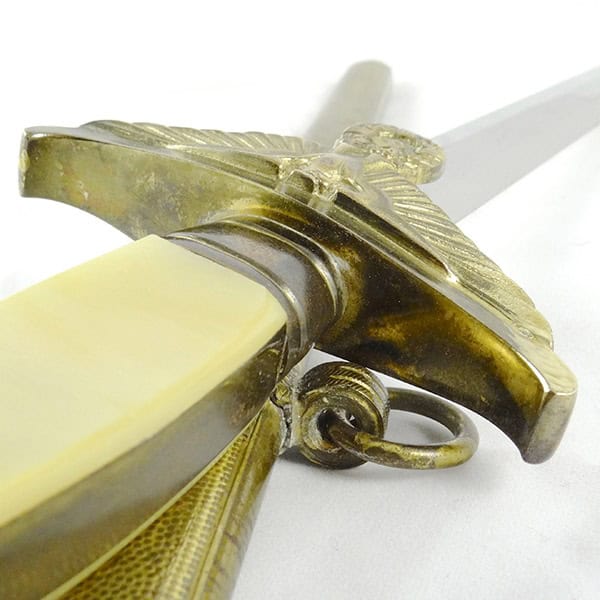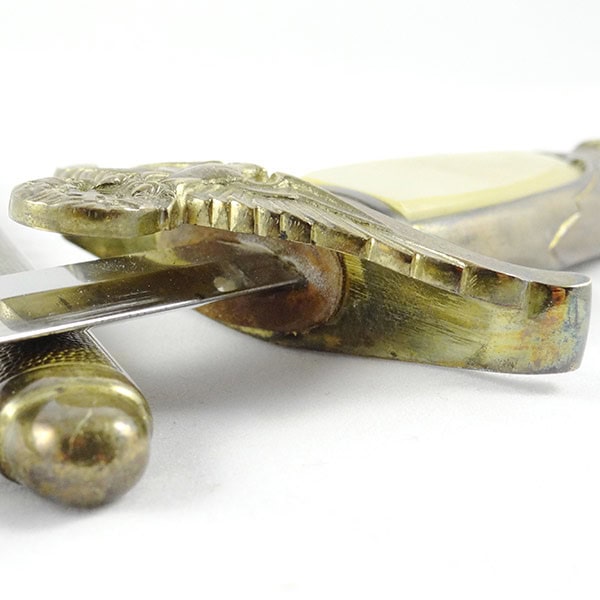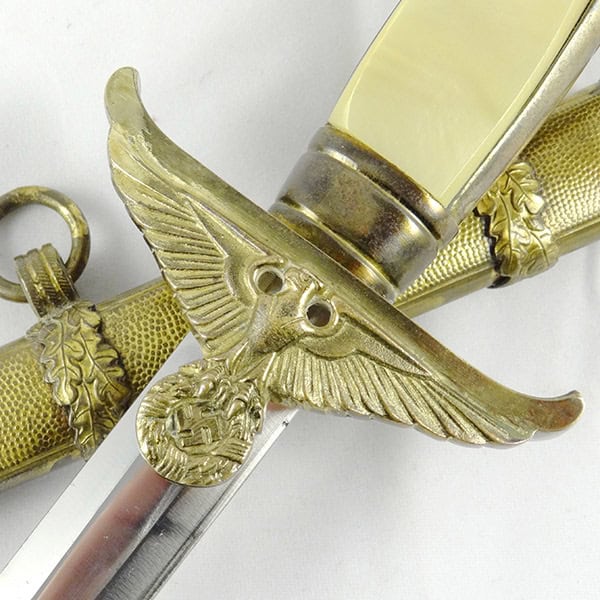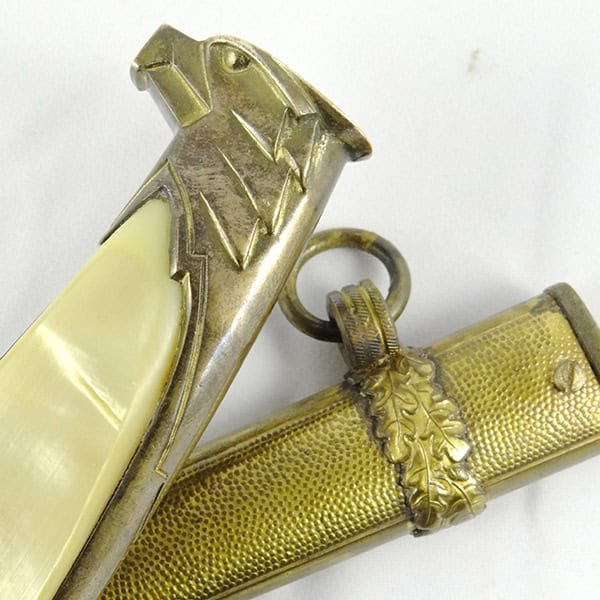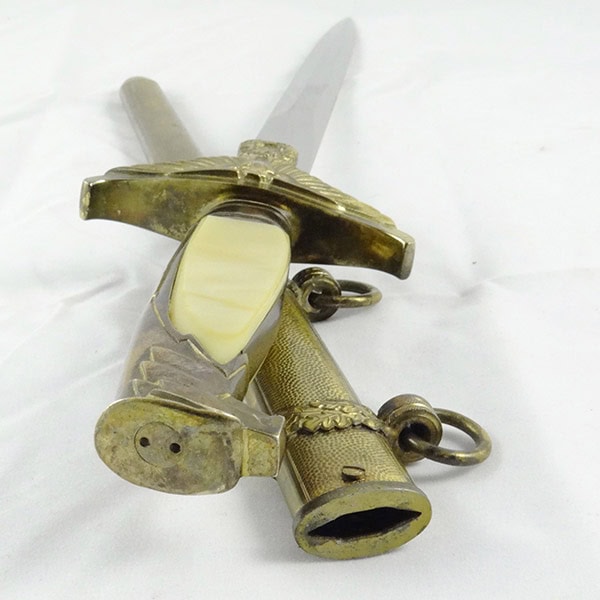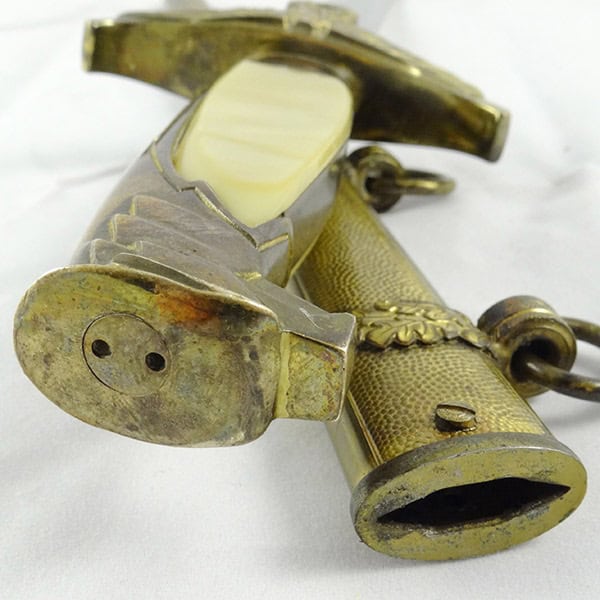 This has to be one of the rarest Third Reich daggers around, as well as one of the most desirable, and most beautiful! Few collectors are lucky enough to see one in person, much less have the good fortune to add one to their collection. Sometimes referred to as a "Gold Government Dagger" (or Gold Government Official's Dagger), the more formal label is the Eastern People's Government Official's dagger, or "RMBO Dagger". This particular one is (frankly) the nicest one I've seen in my years of collecting.
Overall, this Gold Government Dagger's original gilded finish is 90% – 95%, and that's not being generous! In fact, even the original lacquer is still very strong throughout much of the piece (just look at the photos). This dagger was stored properly and well cared for – purchased directly from the veterans Grandson.
Starting at the top, the hilt has lost more of the original lacquer and gilding than any other part of the dagger. This is to be expected after years of handling. We see the same wear pattern with the standard Government daggers as well (pretty much any dagger really). There are no dings or scratches to note; even the simulated pearl grip plates are free of dings, scratches, cracks and chips. The spanner nut at the top of the eagle's head is free of any signs of molestation. The two pin holes are almost perfectly in line with the eagle's beak. It is obvious this dagger has never been opened.
Moving to the cross guard we see a magnificently detailed eagle correctly facing the same direction as the grip eagle. The eagle's detail shows only the most minute loss due to normal wear to the raised areas such as the head and breast. On the underside of the guard we find the original leather buffer pad still in place.
Moving to the blade we see a very clean surface with a strong cross grain. We would rate this blade a 9 out of 10, with a full 10 not being applied simply due to a few very minor imperfections (we're probably being overly picky). The Carl Eickhorn maker mark is very crisp and still retains its factory toning – an absolutely stunning blade all around.
It just keeps getting better as we move into the scabbard. The scabbard of this Gold Government Dagger still has 98% of its original gilding and lacquer. Just look at these photos! There are no dents or dings, and no notable scratches to speak of. We've seen several examples of these Eastern People's Government Daggers and this is one of the nicest scabbards we've seen (one of the nicest daggers overall in fact).
If you've even been dreaming about adding one of these daggers to your collection (and what dagger collector hasn't), this is your chance to step up and make that dream a reality. Don't procrastinate or you WILL miss out – this dagger is not going to hang around long before it finds a home.