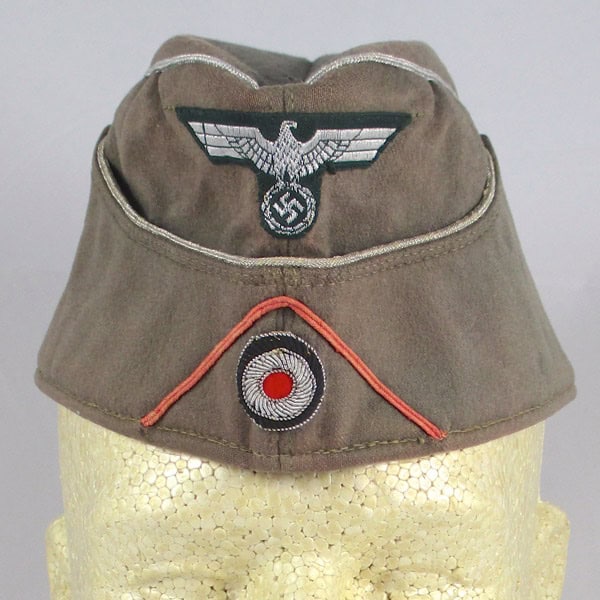 There were several styles of headwear worn by members of the German Heer and Luftwaffe during World War 2. Soldiers in the Heer (or German Army) wore feldgrau (field grey) side caps which were soft folding caps fashioned from wool. They were very similar to American garrison caps (sometimes referred to as overseas caps) save for the German side cap's scoop in the front. Heer officers' side caps featured silver piping which served to distinguish the officers from enlisted men. The sidecaps worn by generals were piped in gold. In 1942 a variation of the sidecap was created with a button-secured dual fold that functioned as ear flaps. Shortly thereafter this hat was effectively replaced by the M43 visored field cap. This was also a soft wool cap and it rapidly became the standard headgear for Heer soldiers. The standard cap worn by officers and enlisted men in the Heer and Luftwaffe for more formal matters was the visor cap or peaked cap. The rigid visors of these caps were made primarily from black vulcanized fiber with some versions fashioned from patent leather. The visor caps issued to enlisted men had a black leather chinstrap while those issued to officers and authorized NCOs featured braided silver cords. A general's visor cap had gold braided cords. Check back often as our selection of German WWII Caps and Visors is updated quite often with new items!
German Caps & Visors

$

1,200.00

This is a very high quality, and immaculate WWII German State Forestry (Heeresforstverwaltung) Officer's named visor cap, manufactured by Karl Schlipf Uniformgeschaft Backnang. It simply doesn't get any better than this. The exterior condition is like new, with hardly a blemish, while the interior appears as if the cap was worn only a handful of times. A collector's dream!