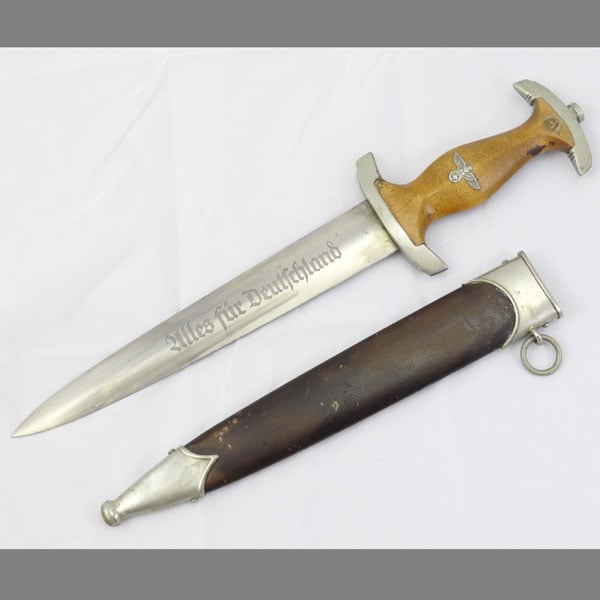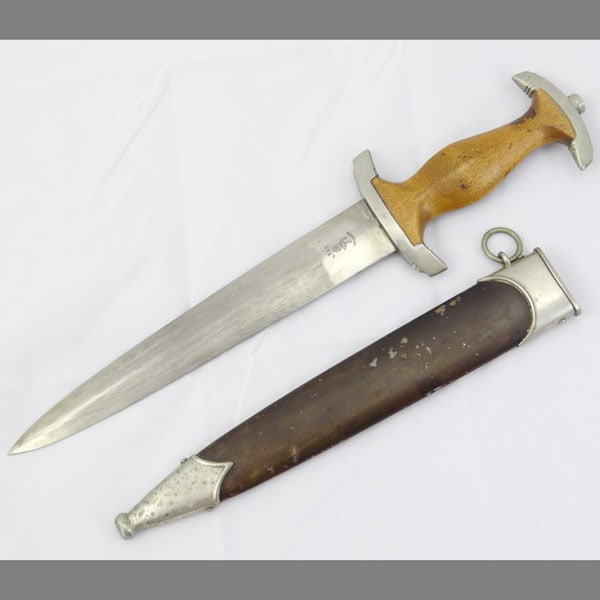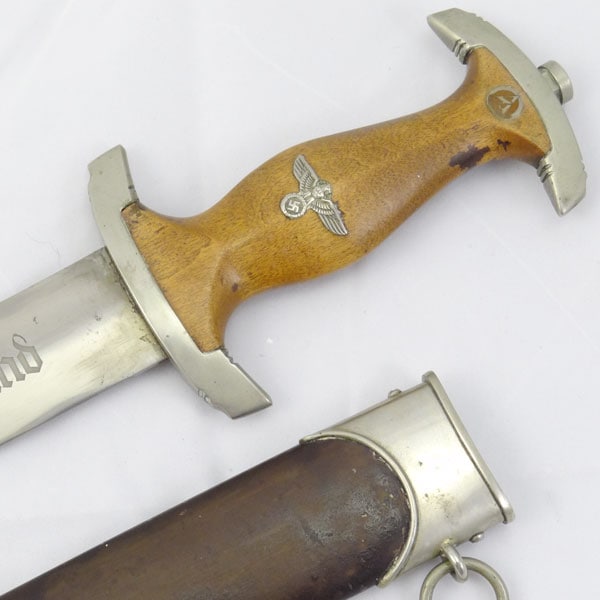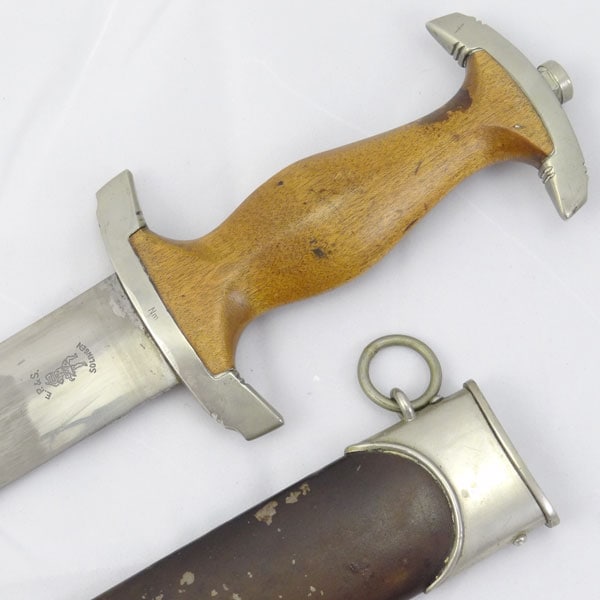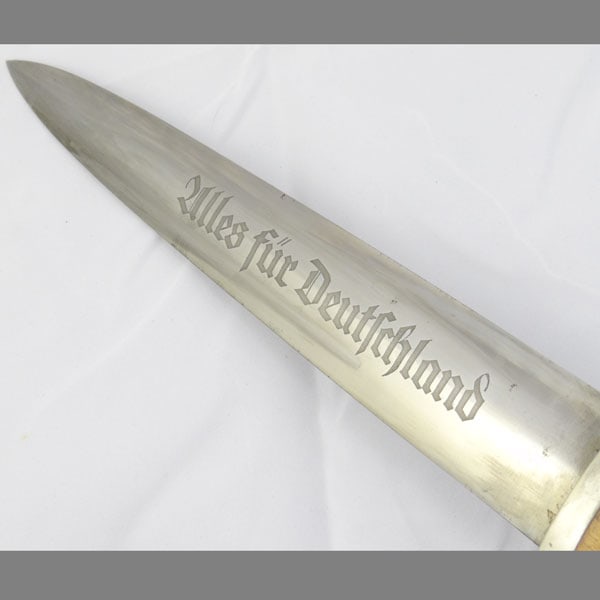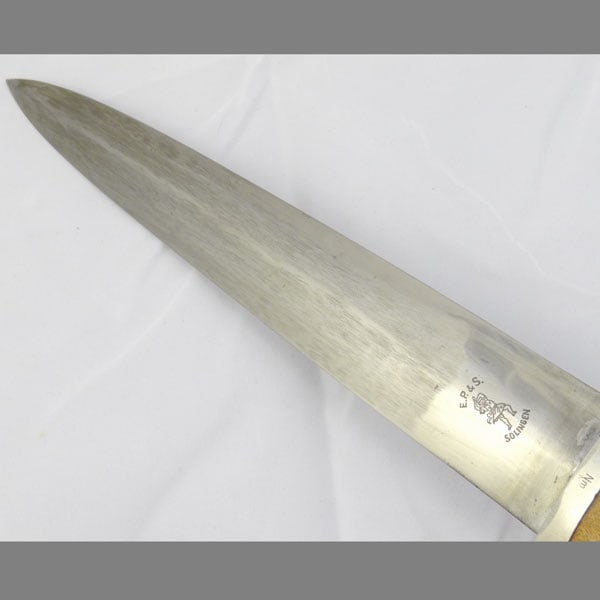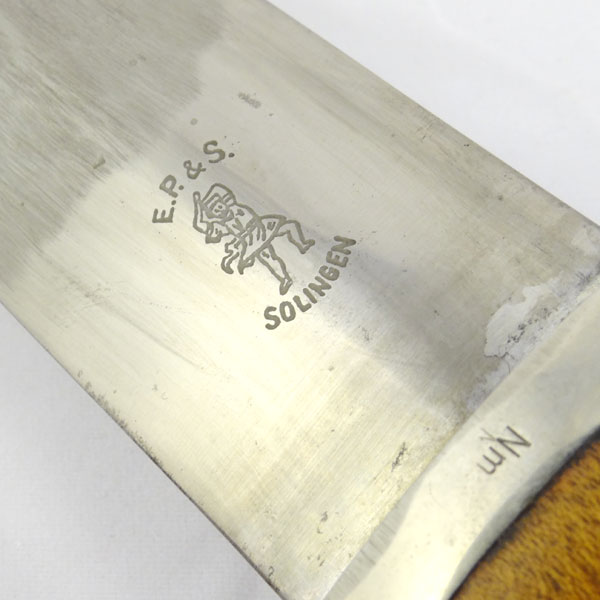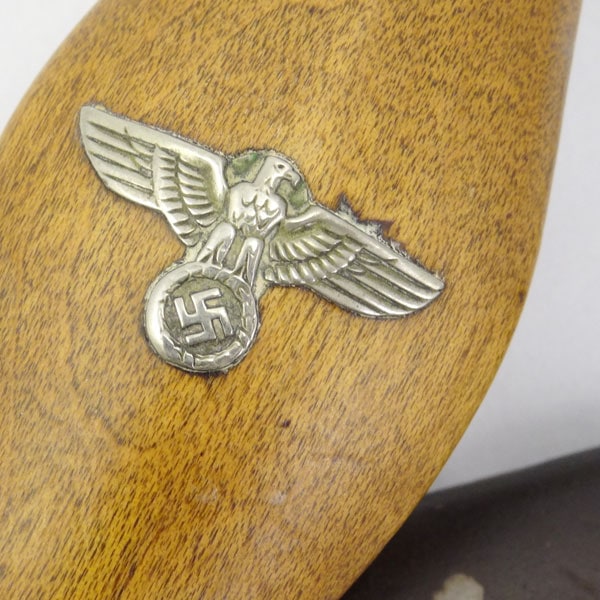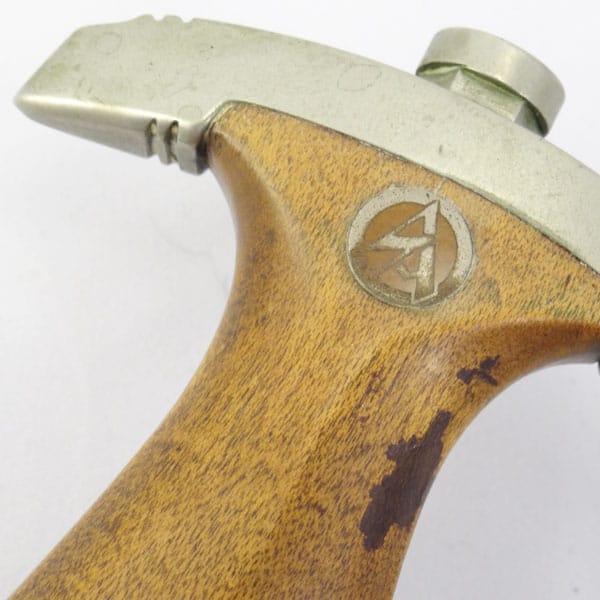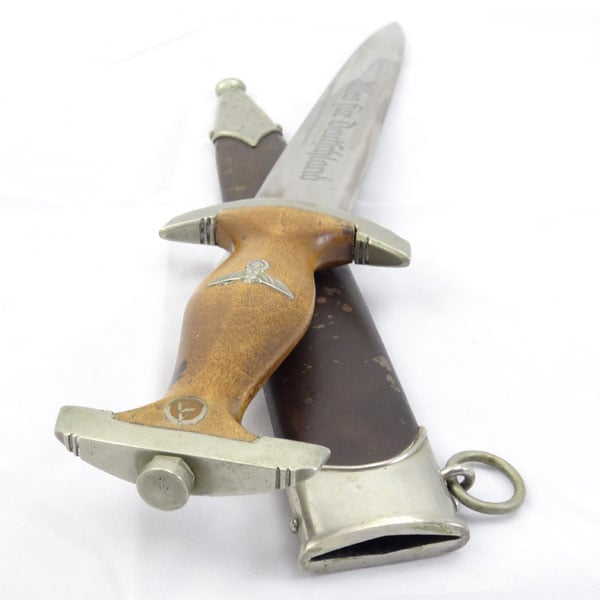 Here's a real nice field ground Rohm SA Dagger from E.P.&S with a very desirable blond grip.
As mentioned, the grip on this one is a very nice blond color, with a few speckles of dark throughout; one almost resembling a birth mark. The finish is nice and smooth, with a slight gloss under good lighting. The nickel eagle is a nice and shiny, with most of its original detail and only some use wear in the expected areas around the wreath legs and breast. The SA roundel is free of chips and has no missing enamel, but does show some slight age discoloration on the bottom 3rd. The grip fit to the upper and lower guards is nice and snug. The only flaw with the grip (and I'm being picky here) is a very faint hairline crack at the 12:00 position of the SA roundel, between it and the upper guard. This is very typical with these daggers, so nothing unexpected. The pommel nut at the top of the grip shows no signs of having been removed; no gnarl marks and no swirl marks on the surface of the guard.
Moving to the blade we see an extremely nice looking surface with your normal runner marks, a few scratches but no moisture damage or clouding that we see with a lot of these blades. The motto on the front is stunning; a crisp etching that looks untouched by time. On the reverse we see the field ground Ernst Röhm dedication across much of the surface from the E.P.&S. Solingen maker's mark all the way to the tip. Aside from the areas of the ground inscription, the fine detail of the cross grain is prominent throughout.
The scabbard fittings match nicely to the nickel guards in tone and patina. There are a few minor dings to the fittings, but they're otherwise in great condition. The tip fitting has some water spots that have settled in with the years, but only add to the charm of the piece overall. The scabbard body is a mix of dark and light tones, and almost has the appearance of wood stain. The screws do show some signs of having been removed (or attempted removal) so it is possible that the scabbard body underwent some refurbishing in the past, but it is difficult to say for sure.
These E.P. & S. SA daggers are becoming more and more desirable by collectors, as is the "field ground" look of the Rohm versions such as this one. If you've been looking for a nice Pack SA Ground Rohm Dagger at an affordable price, this is the one for you.