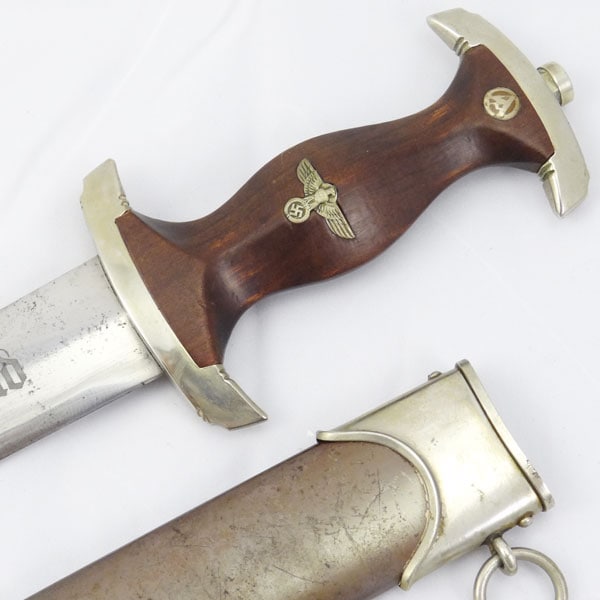 The German SA Dagger was originally commissioned by Hitler for members of the National Socialist German Workers Party or NSDAP (National Sozialistische Deutsche Arbeiter Partei). These daggers were designed for use as dress accessories and functioned as symbols of status and rank within the Nazi party. The design of the SA dagger, like its counterpart the SS Dagger, incorporated elements of the "Holbein" dagger which was a German hunting knife that dates back to the 16th century. One of the primary design features of the SA knife is the Nazi eagle with its wings spread wide, grasping a wreath that contains a very prominent swastika in its center. Other prominent features include the SA symbol within a circle at the top of the wooden grip, the phrase "Alles fur Deutschland" (Everything for Germany) inscribed in the center of the steel blade in Gothic script, and a distinctive curved grip fashioned from various woods including walnut, birch, and maple. Some of the early versions of the German SA dagger exhibit some important differences compared to later knives. These include the lack of the circular SA insignia, a different phrase inscribed in the blade: Deutschland Uber Alles" (Germany Above All), and a larger nickel eagle design. However these early models of the SA dagger are extremely rare and only a small number of them are known to exist.
Showing 1–24 of 37 results
German Daggers & Knives

SOLD!

This early SA Dagger was produced by the F. Dick company (F. Dick, Esslingen). This is possibly the nicest grip I've seen on an SA dagger due to its deep cherry wood tones, and subtle light accents. A real beauty! The grip shows only standard use wear, which consists of small scratches from normal use. The grip eagle eagle has retained about 99% of its original detail, appearing to have not suffered any dings or harsh use. The SA roundel has all of it's enamel and is in superb condition!