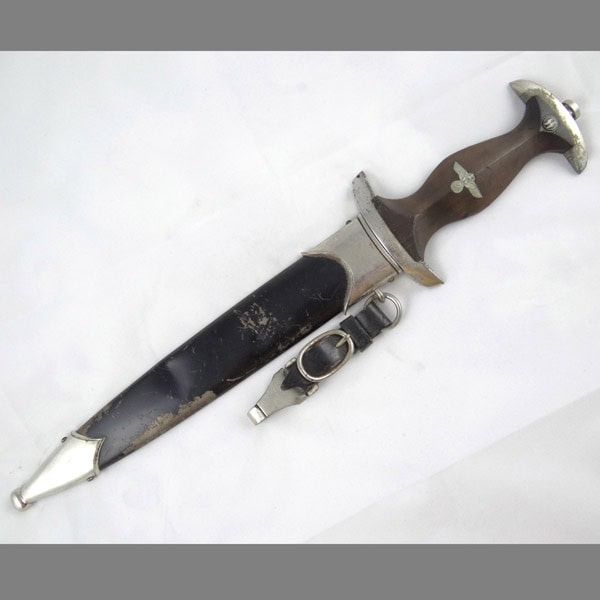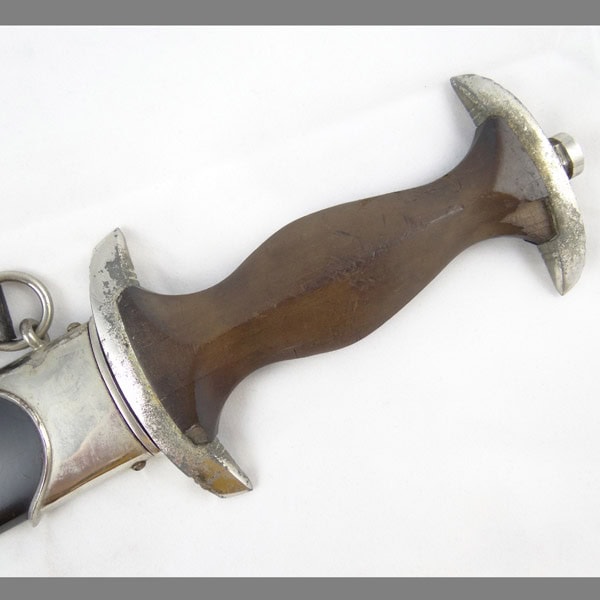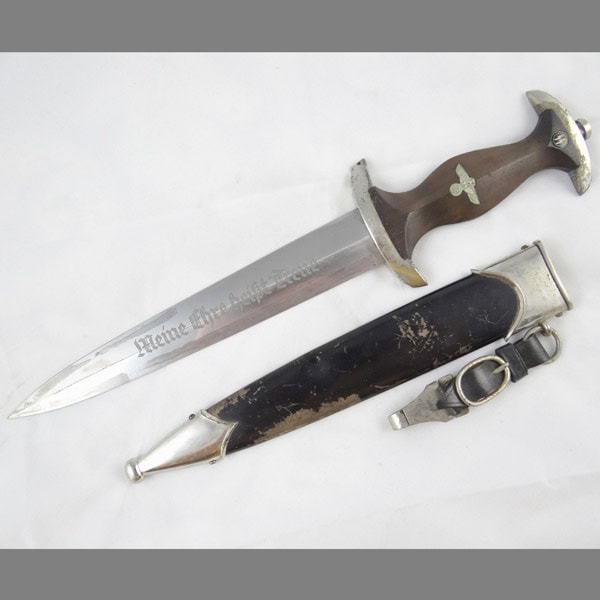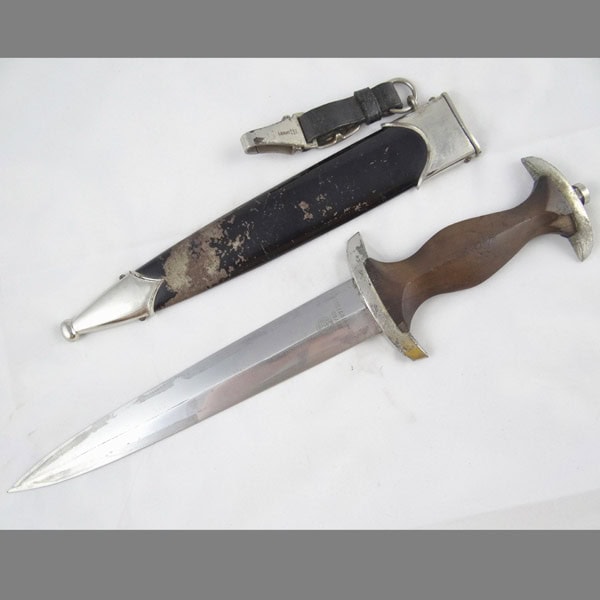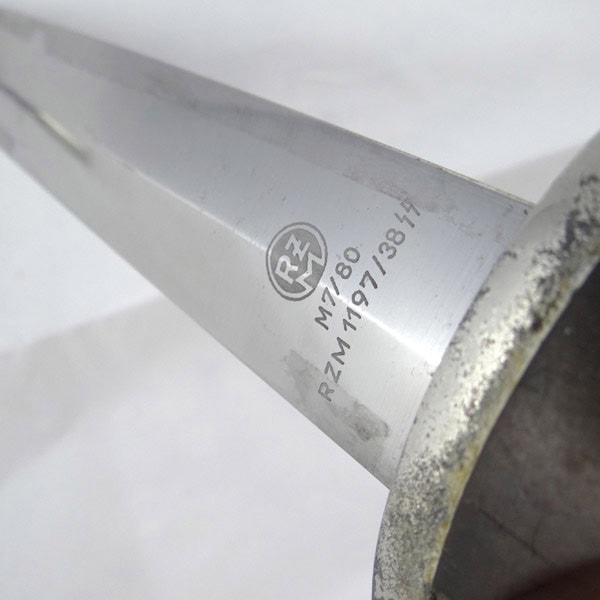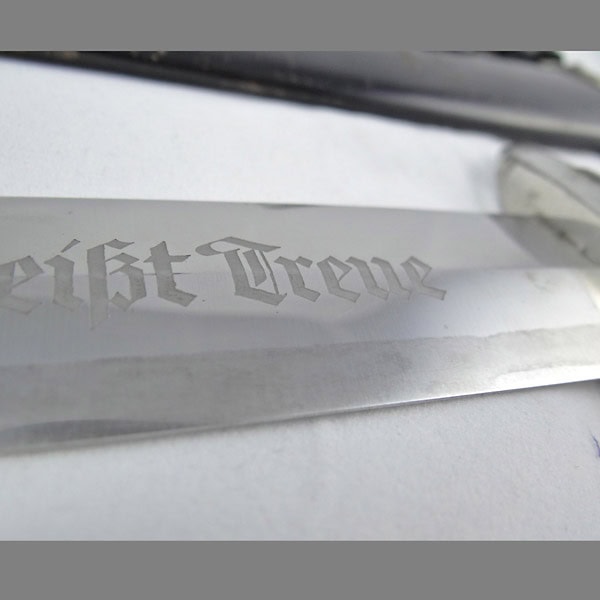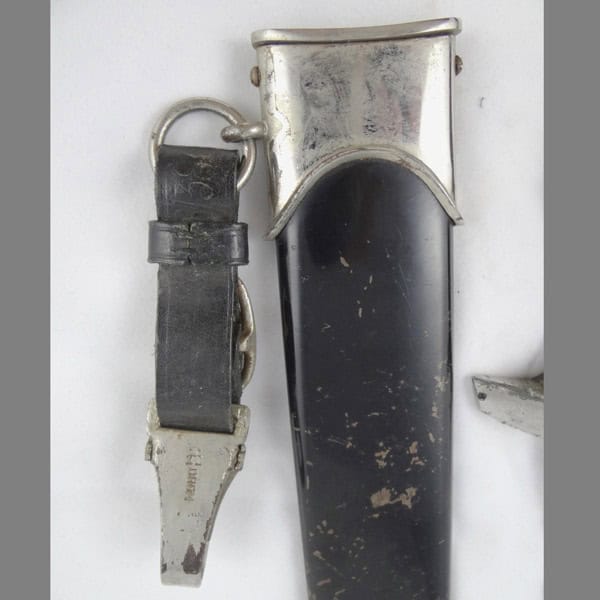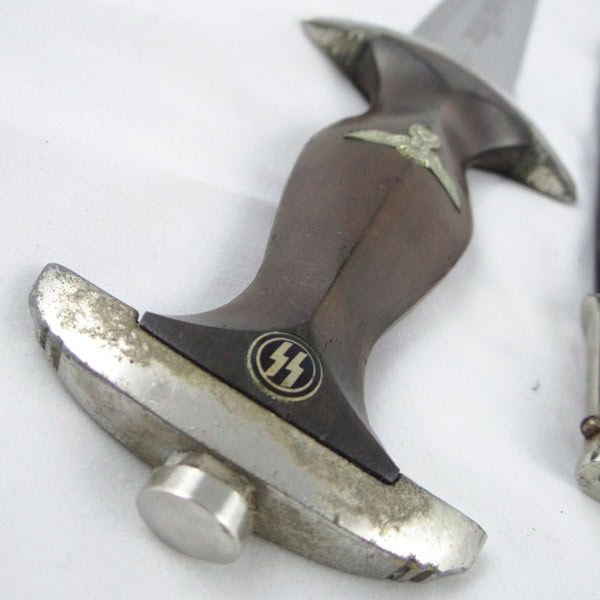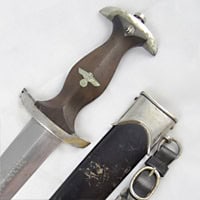 A bit salty, but still a very nice mid-period, uncleaned and unmessed with SS dagger by Gustav C. Spitzer.
The grip is a nice deep chocolate color with shadows of black around the edges and in the grooves. I really like these deep brown grips. Something about them is just more appealing in my opinion. As with many SS daggers in circulation, there is one small chunk missing at the rear of the grip where it meets the top crossguard, and the start of another chip on the front to the left of the SS roundel. The wood is separating and loose, and will likely separate completely soon if not carefully re-secured. Still, better to have the wood chip present in order to repair the piece, than to be missing the piece altogether. Other than the two flaws mentioned, there are a number of surface dings and scratches, but nothing abnormal in my experience.
The plated crossguards on these daggers seem to have a tendency to lose their plating over time (typically due to improper storage), which is the case with this example. Some collectors like this look as it gives the dagger a "been there, done that" appeal.
The double RZM marked blade is very nice, one of the nicer ones I've seen. The cross grain is still visible on both sides of the blade, but there is an odd series of surface haze lines that I cannot explain. Perhaps someone skilled in metal work can remove these marks without damaging the blade's grain since they do appear to be extremely faint and surface deep. I never use chemicals on my blades, but perhaps even a light chemical will remove them. Not something I will test. The markings on the blade are that of Gustav C. Spitzer; RZM M7/80 RZM 1197/38 SS.
The scabbard retains about 75% of its factory paint, and a couple light dents., but is compete with factory hanger. The scabbard's metal fittings are also plated, and show consistent wear to the dagger's crossguards (although minus the plating degradation), leading me to believe this set has been together since the factory. All fitting screws are also present and tight.